Stepping Into The Temple with a Trail of Red - Happy Woman's Day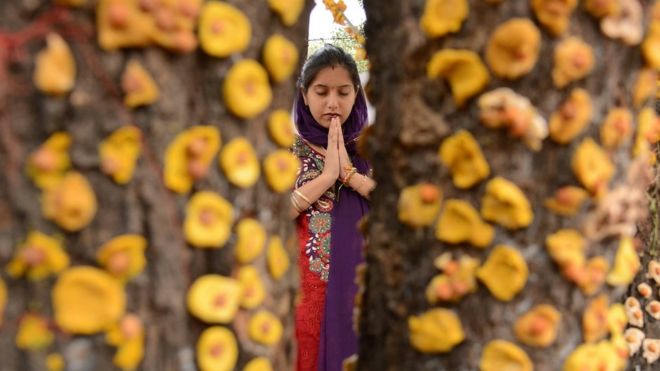 picture courtesy: BBC News
The whole day today I have been getting Whatsapp messages wishing me for Women's Day. Have you closely seen the word 'woman'? It almost sounds like woo-the-man. Some even say that it means "to win over a man. While the feminist in me shouts about rights and privileges, a question has started arising in our mind. What if we are burdened with the wrong name calling card? Why do we need the word man in my being a woman?
And mind you, this word was coined by the most progressive of all countries - United Kingdoms. The pioneers who gifted the world with the English language. So why were the XY chromosomes given a single name and we the XX had to 'woo' a 'man and be called a woman?
Where did the word Woman originate from? Research tells me that that word was originally coined as 'wifman' meaning wife of a man which later over the decades was broken, mended, churned and finally emerged as a woman. How convenient :) So while the sexist out there snicker here is another interesting tale.
How did the biological symbol of a woman come into being?
The circle with an equilateral cross below is the symbol of Venus's hand mirror. Venus never went anywhere without it and since Venus represented feminity in the ancient Greek culture, the circle with the equilateral cross become our biological representation of women.
So what is India's contribution to the world of being a woman? Living offshores, I have found something that has put me in a cultural shock. I interviewed 10 women from my friend list. 5 from India and 5 from the USA. I asked everyone if they worship God when they have their periods.
Here is their answer:
1. Indian Woman One: We don't follow this anymore. Even my grandma didn't.
2. Indian Woman Two: Pagol? Me and God have our own personal relationship. So why should I hide my periods from my mother?
3. Indian Woman Three: Are you crazy? Those days are gone. I do my chantings even during my periods.
4. Indian Woman Four: I don't pray to God during these times Rubes.
5. Indian Woman Five: I pray, I dance and I do everything. Who made the rules? The rules are in our Shastras and they were made by men.
Now take Two...
1. Desi Woman in the USA: I worship Rubes. Does not matter to me.
2. Desi Woman in the USA: Oh no..we will burn in fire if we do this.
3. Desi Woman in the USA: No never. I don't even cook and touch my husband.
4. Desi Woman in the USA: Don't even come to my house if you have periods. I never go to anyone's house too. It will make the house impure.
5. Desi Woman in the USA: Arrey no re baba. We are so impure during our periods that we should not even touch anything.
Impure? We are impure because we are women? We can't enter temples during this time? Why? Because we will make the grounds of the temple impure? Who made the rules? Men who abuse their wives can go and do 101 parikramas and they are not impure - for sins are washed as we do the parikramas? But I have one question. How do you know the Goddess you are doing Parikrama around does not have periods during that time?
We are all talking about Gun laws in the USA. Every Indian male and female who have never visited the USA are shouting too. But what about this discrimination so close to home? For centuries. When are we going to raise our voice against this discrimination? Maybe that day we can say - Happy Women's Day in India.
Recently heard a dialogue in Begum Jaan. Vidya Balan says : Hume Mahine na yaad dilao daroga, Kambakht laal karke jaati hai.
Don't remind me of months Inspector, it leaves a red trail behind. (rough translation)
Labels: Stepping Into The Temple with a Trail of Red - Happy Woman's Day