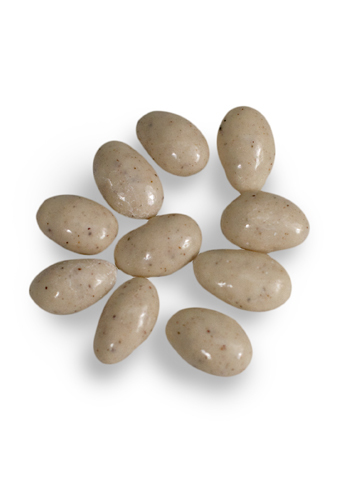 Have you ever seen a writer's face when they see a review on Goodreads or Amazon? I never knew the feeling till I got my very first review of Knitted Tales. Well, that is the tale for another day. One of my readers asked me why I chose a Faberge Egg as the subject of my story. Here is a small tale attached to that.
The year was 1983 (I think).
Have you seen those egg toffees in India?
They looked something like the picture on the left side of this post but more colorful. I couldn't find a more authentic pic than this. So as the tale proceeds, my two-year-old bro was crazy after these colorful eggs but we were forbidden to eat it. You would get this from the local small grocery shops at I think 12 pieces for Re.1
My mom found it out that I have bought him those eggs without asking anyone and I got all the verbal thrashing. Now my mom had a peculiar way of thrashing her kids. She would tell us stories which generally had a moral in the story. But this time she told me a love story. The love story of a Russian Czar who stole a very expensive egg for his Princess and had to face many difficulties to find the egg. It was nothing to do with my Re.1 eggs but it stayed in mind for a long time. It was such a beautiful tale. Later I realized that she was telling me a story about a Faberge Egg. The history of which I will continue in my next post.
Thank you
+Dola Basu Singh
for this lovely review. You can find her review for my Finding The Angel in Goodreads
You can always grab my book from Amazon and it's also available on Kindle Unlimited.